The Best Roast Turkey Recipe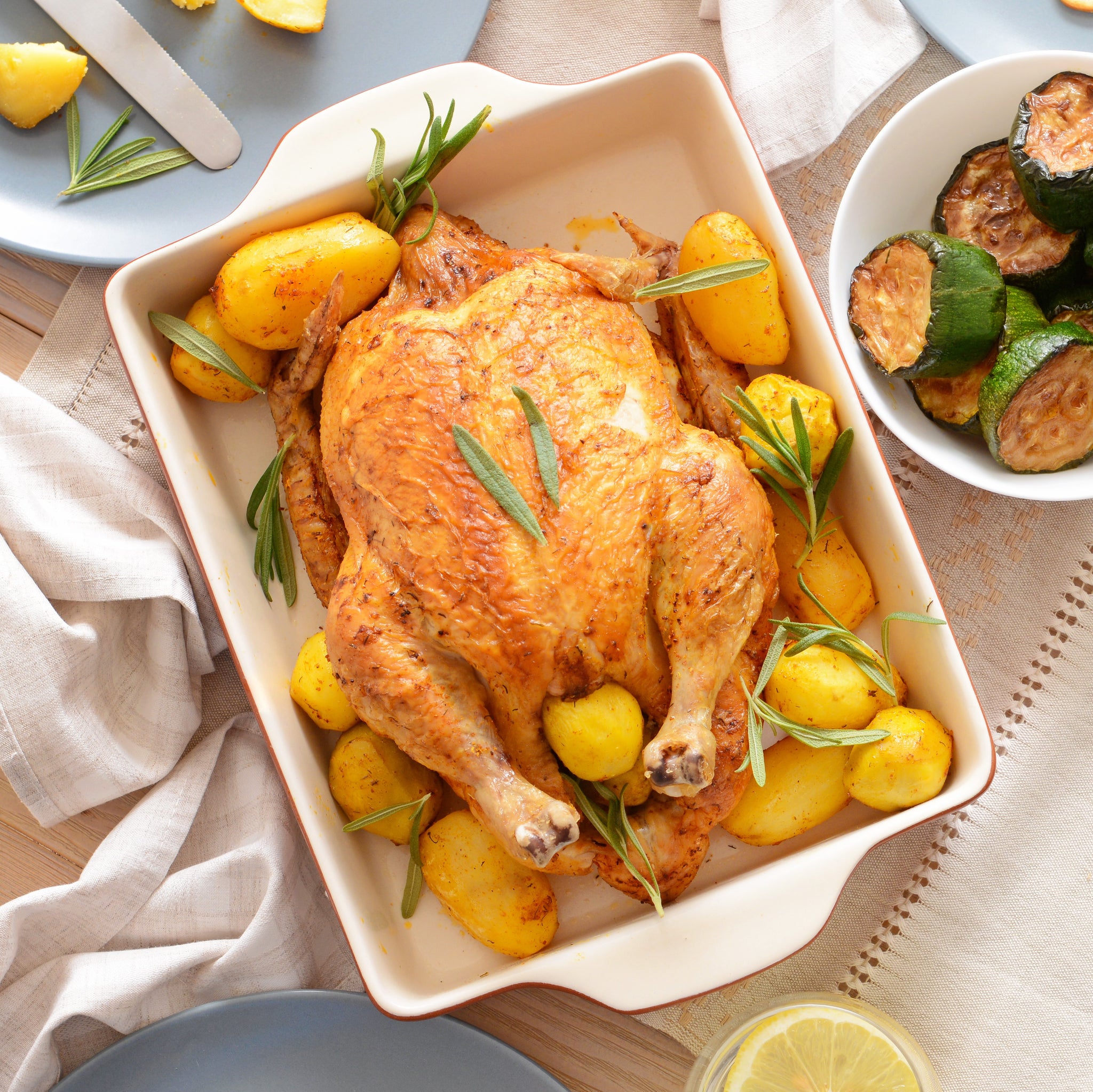 Roast turkey must be one of the most popular and iconic dishes in the entire world, but often, people struggle to create a really good roast turkey. There are two reasons for this: it's something few people cook often, and it isn't that easy to do! That's why we are going to cover the best roast turkey recipe today.
The best roast turkey recipe will leave the meat perfectly tender, delightfully succulent, and full of flavor. You will never again have to deal with the issues of a dried-up bird, an undercooked unpleasantness, or tasteless meat – this recipe does it all!
The Best Roast Turkey Recipe
So, what is the ultimate recipe for roast turkey? Let's find out!
For the roast turkey, you will need:
➔

 ½ cup of olive oil
➔

 3 slices of lemon
➔

 5 cloves of garlic
➔

 6 sprigs of fresh rosemary
➔

 6 sprigs of fresh thyme
➔ 

12-pound turkey with the skin on (thawed, washed, neck and giblets removed)
Note that many of these ingredients will be added in parts, not all at once.
For the buttery rub, you will need:
➔

 Cracked pepper
➔

 2 cloves of garlic
➔

 1 teaspoon of fresh thyme, chopped
➔ 

4 ounces of butter
Method:
Step 1) Cut your garlic cloves (for the turkey) into halves horizontally.
Step 2) For a fan oven, preheat to 390 degrees F, or 425 degrees F for a standard oven. Put one shelf in the lowest part of the oven and remove any other shelves so that the oven is clear for the bird. Depending on how big your turkey is, it may require all of the oven.
Step 3) Take out a roasting pan large enough for your turkey, and line it with foil. Place four of your garlic halves around the bottom of the pan, with the cut sides facing down. Next, pour in half of the olive oil and add one slice of lemon. Place four sprigs of both rosemary and thyme in the bottom with the rest of the ingredients.
Step 4) Use paper towels to pat the turkey dry. Make sure it is absolutely defrosted, and then stuff it with the remaining halves of garlic, both lemon slices, the herbs, and a thin drizzle of olive oil. Do not make it too oily inside.
Step 5) Melt your butter in a pan, add the minced garlic and the chopped thyme, and allow it to cook together for a few moments. When this has been done, rub some all over the outside of the turkey.
Spread some under the skin, and then season the whole turkey with both pepper and salt if you want to (especially if you used unsalted butter. If you use salted butter, you should not need additional salt). You should have butter left after this step; don't use all of it up.
Step 6) Put the turkey in the roasting pan, breast side down, and drizzle the remaining olive oil over the bird. Don't add more, or it will be greasy.
Step 7) Roast for thirty minutes with no cover on it. If you are cooking a larger turkey (over 13 pounds), you will need to increase the roasting time to 45 minutes, and add extra ingredients to ensure it is properly seasoned.
Step 8) After 30 minutes, take the turkey out of the oven and use a pair of tongs or a clean towel to turn it over. Be careful not to burn yourself. Baste the top (which should now be the breast) with juices from the pan.
Step 9) Take your remaining herb butter and spread half of it over the turkey. It should melt, but be careful not to burn yourself as you do this.
Step 10) Lower the oven heat to 300 degrees F for fan ovens or 325 degrees F for standard ovens, and put the turkey back in the oven. It can then be roasted for a full hour, with no cover needed.
Step 11) Take the turkey back out of the oven and spread the remaining butter over it. This should melt very quickly.
Step 12) Put the turkey back in the oven and allow it to roast for another half an hour. Take it out, baste it thoroughly, and then put it back in for another 30 minutes. If the bird is browning faster than you want it to, cover it loosely with aluminum foil.
Large birds may need an additional 30 minutes of cooking, but a small turkey should be fully cooked at this stage.
Step 13) Turn your oven up high and broil your turkey for 5 to 10 minutes for super crispy skin. Make sure it does not burn while you do this. It should become rich gold and crispy all over. This is an optional step, but ideal if you like crisp skin.
Step 14) Loosely cover the turkey with foil and then allow it to rest for 30 minutes before you carve and serve the meat. You can use the liquid from the pan for very rich turkey gravy, or pour it across the turkey, or discard it.
Note that the turkey will continue to cook a bit while it rests under the foil; this is fine.
Different Kinds Of Roast Turkey

Of course, there are many different ways to make roast turkey and many different recipes that will make it taste fabulous.
What Temperature To Use
The temperature for roast turkey will vary depending on the size of the bird, your oven, and how well done you like it. To be safe, the temperature for roast turkey should be at least 165 degrees F, otherwise, bacteria may be present in the meat.
If you choose to cook your turkey at a hotter temperature than recommended above, you may find that it is quick to burn, so make sure that you use a foil cover.
The outside being cooked (or even burning) does not mean that the inside meat is hot enough to be safe, so make sure you check the temperature for roast turkey and use a meat thermometer to ensure it has reached this level.
Which Herbs To Try
What about the herbs for roast turkey? You can use almost anything, but many people like fresh sage and rosemary. These can be roasted with the meat and will give it a wonderful burst of flavor.
If you don't have fresh herbs, you can use dried herbs for roast turkey, but bear in mind that you will need a larger quantity and you may not get such a good flavor. It is better to use fresh if you can.
Other good herbs for roast turkey include parsley and thyme. These enrich the flavor of the meat and make it much tastier. Unseasoned turkey doesn't taste great!
Turkey Wings
If you've ever wanted to make roast turkey wings, this is very straightforward too. All you need to do is to buy some turkey wings, and use the recipe above to roast them – although you will need to decrease the quantity of the rubs and oils, and the cooking time. You should be able to roast turkey wings within about an hour, turning them after 30 minutes.
The best thing about roast turkey wings is that they are bigger than chicken wings and they are delightfully meaty and crispy. Roast turkey wings beat chicken wings every time, so don't miss out on this treat!
Turkey Breast
What about a recipe for roast turkey breast? If you are just cooking the breast, you should roast it for around 40 minutes, depending on how large it is. Heat your oven to 450 degrees F, but reduce it to 350 degrees F just before you put the turkey in. Rest the turkey breast for 15 minutes afterward.
This is the best recipe for roast turkey breast, especially if you brush it with herb butter as directed above.
Roast Turkey With Brine
Lastly, what about roast turkey with brine? Roast turkey with brine is delicious and very moist. For this recipe, you'll need brown sugar, cinnamon sticks, onions, clementines, bay leaves, star anise, thyme, garlic, salt, pepper, and cloves.
These form the brine when boiled with water, and you can then pour it into a large, sterile bucket. Submerge the turkey so that none of the meat is sticking out of the brine, and leave it somewhere very cold (ideally a fridge) for two days before cooking it.
You should pat the turkey dry before cooking, and rub it with olive oil and salt. Spread some butter on it and roast as usual for delightfully succulent and spiced meat.

FAQs
Q: How to roast turkey in the oven
A: You should roast turkey in the oven by rubbing it with olive oil first to prevent the meat from drying out. If you broil your turkey, this will help to make it crispy. Cook it at a high temperature until the center of the meat reaches 165 degrees F.
Q: Do you cover a turkey when roasting in the oven?
A: You should not cover a turkey to begin with, as this will stop it from heating effectively. As long as you have properly rubbed the turkey and you are cooking it at the right temperature, it shouldn't dry out, so the foil isn't needed. Toward the end of the cooking process, if your turkey is browning too fast, you can cover it.
Q: How do I keep my turkey moist?
A: Brining is the best way to keep your turkey moist, but if you don't have time for that, you can salt your turkey and let it rest for a while before roasting. The salt will pull some moisture from the meat and create a concentrated brine, which is drawn back into the meat as it cooks. This is concentrated brine, sometimes known as dry brine.
Q: Should you wash your turkey?
A: No. Washing the turkey will not kill any bacteria, and you might spread any bacteria there may be from the raw meat to your sink, counter, and other places. Cooking it will kill the bacteria, so don't wash it.
Q: Should I roast my turkey at 325 or 350?
A: Either of these temperatures should be okay. 350 may dry the meat out a little, but 325 may not get it hot enough. Experiment with your oven for the best results, or vary between the temperatures.
Q: Do you put liquid in the pan when roasting a turkey?
A: Adding some liquid to the pan is a great way to keep the turkey moist. You can use a buttery rub and olive oil as suggested in the recipe above, or you can add water or a rich stock.
Obviously, the more flavor you add to the pan, the more your turkey will absorb it. Baste your turkey with it to spread the flavor and soak it into the meat.
Q: How do I know if the turkey is done?
A: Turkey should take about fifteen minutes per pound of meat, but a meat thermometer is the best way to tell. You should insert this between the leg and the breast, and it should read 165 degrees F. If it is cooler than this, the turkey needs to be cooked for longer.
Q: How much turkey do I need?
A: Serving sizes will depend on the number of side dishes that you provide, but the following estimates may help you:
➔

 Nine to twelve pounds for six to eight people.
➔

 Twelve to sixteen pounds for ten to twelve people.
➔

 Sixteen to eighteen pounds for fourteen to sixteen people.
➔

 Eighteen pounds plus for about twenty people.
Remember, you can always refrigerate or freeze any leftover cooked turkey for later use in sandwiches or soups.
Hopefully, you enjoyed reading the best roast turkey recipe, and you have lots of ideas for things to try yourself this Thanksgiving or Christmas. If you've never roasted a turkey before, consider doing a practice run before the big day, or getting help from an experienced cook. Roasted turkey can be a challenge, but with a bit of practice and care, you will succeed.