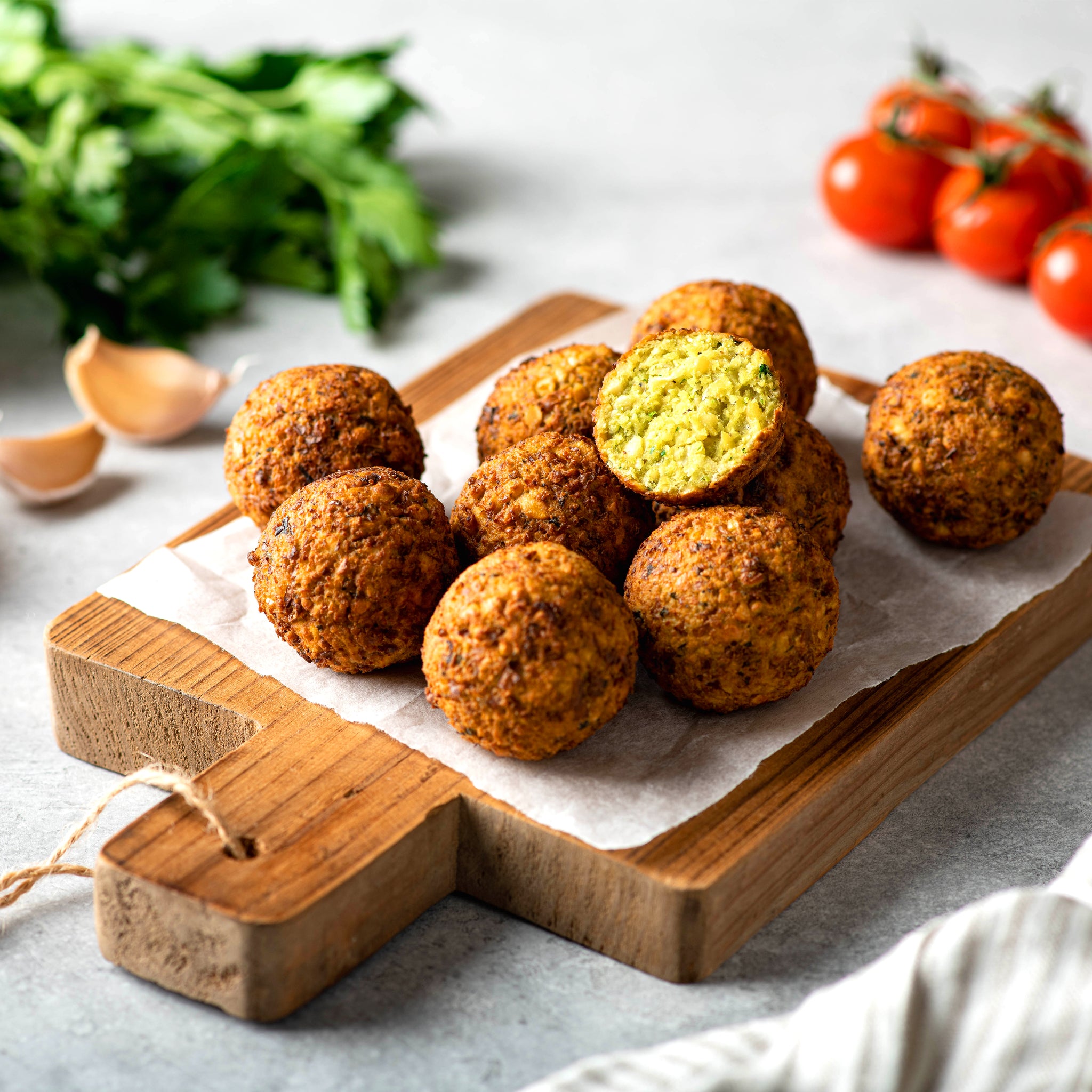 Have you ever looked in your pantry and found a package of chickpeas and thought to yourself "What else can I make besides our delicious Hummus Recipe! Well, think no further, we've got you covered with the best falafel recipe! Falafels are a traditional dish typically found in the middle east. They are made from ground chickpeas or fava beans, and the spices that you add to the mix is what usually gives them their delicious taste! The rolled-up balls or patties are simple and filling. They are great alternatives if you're looking to reduce meat in your diet. You can eat them alone, in wraps, or in salads. Let's take a look at how you can eat them fried or baked.
Here are the ingredients that you'll need:
➔ Chickpeas: Only use dried and soaked chickpeas. Canned chickpeas will not give the right texture or taste.
➔ Yellow onion
➔ Parsley and Cilantro
➔ Fresh garlic cloves
➔ Green Chile Pepper
➔ Cumin, Cardamom, Salt and Black Pepper
➔ Chickpea Flour
➔ Baking Soda: Baking soda will add some fluffiness to your falafels.
➔ Oil for Frying


Now let's get to work and make your falafel dough:
1) Soak your dried chickpeas Keep in mind the chickpeas will triple in size, so cover them with plenty of water. Dry and rinse them after allowing them to be soaked for 8-12 hours.
2) Add all the ingredients to a food processor. Add the chickpeas, onion, parsley, cilantro, garlic, green pepper and spices to a food processor. Chop the onion, and add the herbs and pepper. Pulse until the mixture resembles coarse sand.
3) Take your mixture and transfer it to a mixing bowl: Add the chickpea flour and baking soda and combine all the ingredients together. Then cover the mixture.
4) Let the mixture chill in the fridge for 30 minutes to 1 hour. Allowing them to cool will help with the falafels' shape. Note: If you don't use the entire mixture, you can use the rest of the batch the next day. The mixture can also be frozen in the freezer for a few months. Be sure to thaw the mixture out before cooking.
5) Shape your falafel. Once you remove the mixture from the fridge, scoop the desired amount that you'd like in your hands and roll them into a ball or a flat patty.
How To Cook Falafels
Deep fried falafels: This is the most traditional way of eating falafels. Add a few drops of oil to a pan and let it heat up on medium heat. Once heated, add a few of the falafels to the pan. Let them cook for a few minutes or until they look golden on the outside. Remove them from the pan, sprinkle salt, and serve.  Fried falafels are best eaten straight after they've just been fried as this is when the outside is the crispiest and the inside is the fluffiest.  They can be enjoyed alone with a dipping sauce like tahini.
Bake your falafels: Pre-heat your over to 425F. Lightly a baking sheet with oil. Place the falafels on the baking sheet and dab some oil on them. Bake them for 25- 30 minutes. Be sure to flip them halfway through. Baked falafels are great if you're looking to make them less crispy.
Dish ideas: As mentioned above, you can enjoy falafels with a tahini dipping sauce. Here are some more ways for you to enjoy falafels:
Sandwich or pita
Add falafels to pita bread or a sandwich with freshly diced tomatoes, lettuce, hummus or tahini sauce.
Falafel and veggie platter:  Be sure to get in your vegetables for the day by adding a pile of falafels to your plate with a side of vegetables.
Salad: To make your own vinaigrette you'll need:
➔ Tahini
➔ Grated or minced garlic
➔ Lemon juice
➔ Finally chopped parsley
➔ Salt and pepper
➔ Water (to make a thin vinaigrette mixture)
➔ Combine the ingredients in a bowl. Be sure to mix and shake well
➔ In a separate bowl, add lettuce leaves, chopped olives, cucumbers, and onions. Add salt and pepper for taste. Mix in your falafels and mix with the vinaigrette. Et voila!
Whether you're looking to go meatless, or if you're looking to get creative with that random bag of chickpeas in your pantry,  falafels can be enjoyed in several delicious ways.