Best Ever Meatball Recipes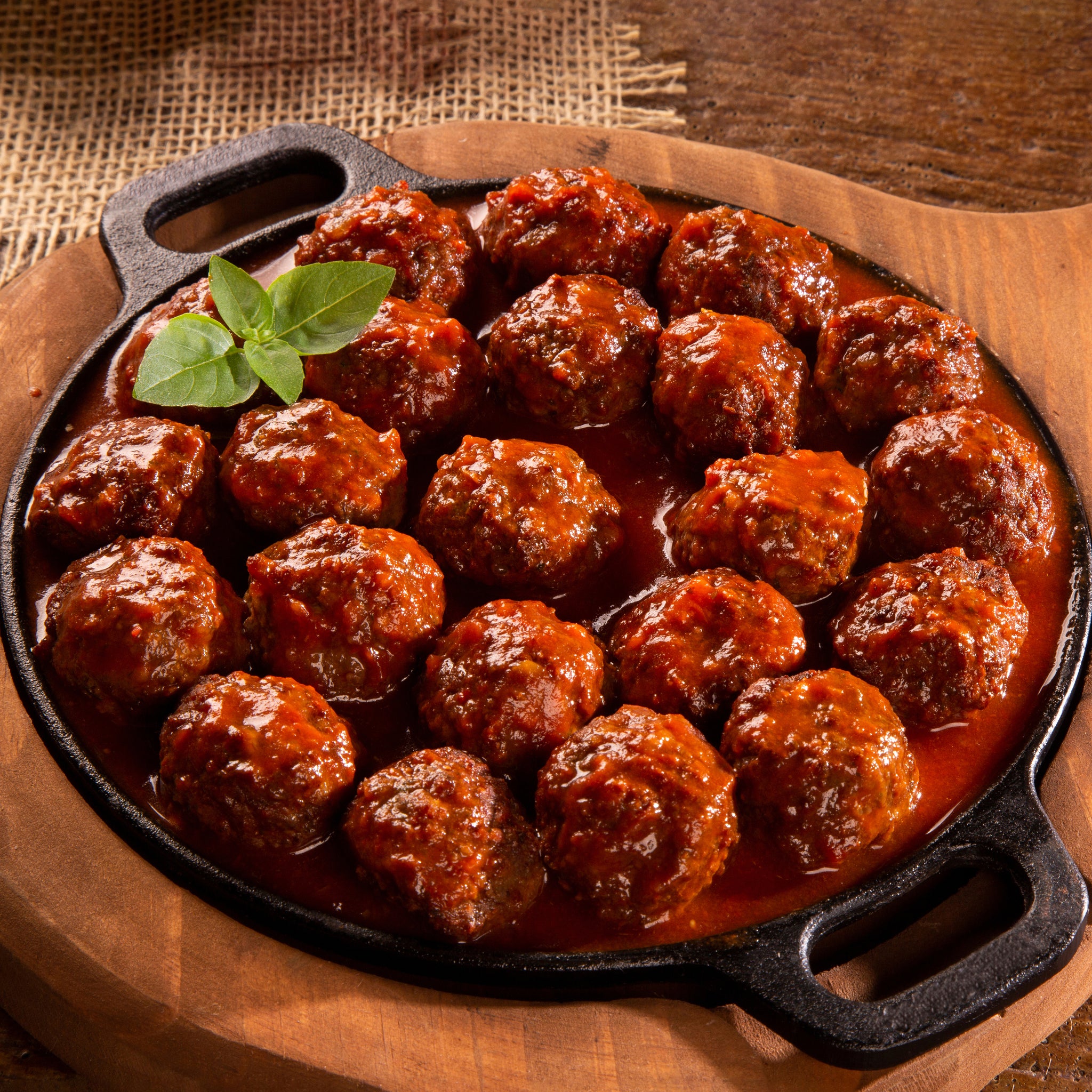 Meatballs are a delicious food that has become a classic and much-loved recipe, and if you're thinking about making some, you're in luck – because this can be made easily while still ending up with a tasty and satisfying meal that looks picture perfect.
There are lots of great ways to make meatballs, and we're going to cover a top recipe and some of the alternatives that you can try out. Enjoy the versatility of this food and pick up a few top tips on how to make sure your meatballs are fantastic, as well as some information on the calories and possible side dishes that go along with it. Check out the best meatball recipes!
The Best Ever Meatball Recipe
You're going to need:
➔ 
1 cup of olive oil (if you choose not to fry the meatballs, you can omit this)
➔

 2 pinches of salt
➔

 2 pinches of black pepper
➔

 1 cup of whole milk
➔

 2 eggs
➔

 2 cups of breadcrumbs
➔

 1 pound of lean ground beef
➔

 1 pound of ground pork
➔

 2 tablespoons of fresh basil, chopped
➔

 2 tablespoons of fresh parsley, chopped
➔

 2 tablespoons of oregano, chopped
➔

 2 minced garlic cloves
➔

 1 yellow onion, finely chopped
➔

 1 cup of parmesan cheese, shredded
Method:
Step 1) Get out a large mixing bowl and stir the breadcrumbs and some of the milk together. Keep adding the milk slowly until the bread is fully moist.
You should have some milk leftover at the end; this is not needed. A full cup is often too much, but depending on how dry your breadcrumbs are, you may need more than three-quarters of a cup, so it's best to have a full cup ready.
Set this mix aside to rest while you prepare the other ingredients; it needs at least 5 minutes.
Step 2) Chop the herbs and add them to the breadcrumb mixture, along with the eggs, onion, garlic, pork, beef, Parmesan, salt, and pepper. You can add extra salt or pepper if you prefer stronger flavoring.
Step 3) Toss the mixture using a wooden spoon and gently break up the meat so that the ingredients mix thoroughly, and everything is combined.
Step 4) Lightly grease your hands and then shape the meatballs into rounded balls, around an inch each (up to 40 grams). Get them as even and round as you can because they will cook more evenly if they are all about the same size and shape.
Step 5) Decide if you are going to bake or fry your meatballs. Frying is a less healthy option, but is often a bit tastier, so we'll cover both methods below. Pick and choose or try both to see which you prefer!
To Fry:
Step 1) Pour your oil into a non-stick pan and heat up until the oil runs easily, using medium heat.
Step 2) Add a third of the meatballs to the pan and allow them to cook for about 6 minutes on one side. When they have cooked, use a wooden spatula to gently turn them over and check that the undersides have turned golden. Cook the new underside for 6 minutes, and then lift out of the pan and onto a paper towel.
Step 3) Repeat for the next third of the meatballs, and then the final third. Cooking them in batches ensures that they don't get overcrowded, which risks some not cooking properly, and others getting overcooked.
Step 4) Allow the meatballs to drain for a few minutes to get rid of the oil and heat up your tomato sauce. You can make this from scratch or use a store-bought option for a quicker and easier meal.
Step 5) Add the meatballs to the hot sauce and submerge them. Then simmer the sauce on a low heat for about 20 minutes, stirring occasionally.
Step 6) Remove a meatball and check its internal temperature using a meat thermometer. It should be at least 165 degrees F. If it hasn't yet reached this temperature, put it back in the pan and cook for a little longer. Don't serve the meal until the meatballs are hot all the way through.
To Bake in Oven:
Step 1) Heat your oven to 400 degrees F (you may want to do this while you are making the meatballs, so you don't have to wait for it to heat up).
Step 2) Get 2 non-stick baking trays and brush them with a thin coat of oil.
Step 3) Spread your meatballs evenly on the baking trays, leaving a little space between each so that the air can circulate, and they can cook properly.
Step 4) Place in the oven and bake for 10 minutes.
Step 5) Take them out of the oven and turn the meatballs over using a thin metal spatula. If the bottoms are brown, they are ready to be flipped; if not, put them back for a bit. Turn all the meatballs over and then swap your trays around so that the top one is lower down, and the lower one is higher up.
Step 6) Bake for another 10 to 12 minutes, and then use a meat thermometer to check the temperature at the center of the meatballs. It should be 165 degrees F.
Step 7) Warm your tomato sauce and stir the meatballs into it. You can simmer for another ten minutes or so, stirring occasionally, to make the meatballs particularly tender, or you can serve it straight away.
Alternative Twists To Try
So, what other recipes can you do? Are you using this meatball recipe for subs? You can use it in subs, although you won't want to cook it in as much tomato sauce. Instead, use a thinner layer of marinara sauce and add this on top of the bread at the same time as the meatballs. Add some fresh fries and cheese and you've got a great meal!
If you're looking for a meatball with grape jelly recipe, you can use the meatball recipe above, but instead of cooking them in a marinara sauce, you'll add grape jelly. To do this, mix chili sauce, grape jelly, and cayenne pepper in a saucepan over medium heat and cook it for up to 10 minutes.
Next, add the meatballs to the sauce and allow it to heat for another 10 to 20 minutes, softening the meatballs and letting the flavors absorb. This must be the top meatball with grape jelly and chili sauce recipe you'll ever find – it is so good. If you don't like chili, try it with BBQ sauce instead.
You can also make a crock pot meatball recipe like this. Instead of adding the meatballs to the pan, put them in your crock pot and then add the grape jelly mixture on top and cook for about 3 hours, until tender and hot.
The meatball with sauce recipe above can also be used for a delicious chili con carne, with tortilla chips on the side, or you can try a lamb meatball biriyani. For this, use the same meatball recipe with ground beef, but swap the beef for lamb mince. You can also switch out the ground pork if you would prefer, but you don't have to if you prefer pork.
If you want a meatball recipe in oven, try a meatball saltimbocca, which is cooked almost exclusively in the oven. You do cook the ground meat on the stovetop until hot, frying with garlic or other vegetables, and then make a sauce, but then the whole thing goes into a baking dish and gets bubbly and delicious as it bakes.
What about a recipe for Swedish meatball sauce? These are a particularly rich and succulent alternative, made with cream to make them decadent and delicious. You will be mixing up cream, flour, beef stock, soy sauce, and a few herbs for the sauce, but you can use the same meatball recipe given above.

What about a classic meatball for spaghetti recipe? It doesn't get better than the one above. Follow the directions, adding a few veggies to the sauce if you prefer your spaghetti to be a little more interesting. Red peppers work particularly well, but zucchini is another great option.

Finally, have you ever considered a keto meatball casserole? The great news is that meatballs are pretty easy to fit into a keto diet, and most of the major food areas are covered. Just cut out the breadcrumbs and use egg to bind, and you can have a delicious, cheesy, meaty meal with no issues at all!
A Few FAQs About Meatballs
You might still have some questions about meatballs, so let's look at a few top queries people have, so you know exactly what you're eating and what's in it.
What Are The Calories Like?
First of all, what about spaghetti and meatball calories? How many calories are you likely to be eating in this kind of delicious meal?
It does depend on what sort of toppings you add (e.g. grated cheddar cheese, cottage cheese, etc.), but in general, a 100 gram serving of spaghetti and meatballs will have around 100 calories in it. It might not be the healthiest meal, but it is delicious!
How To Make Meatballs Without Breadcrumbs
Sometimes, you don't want breadcrumbs for whatever reason. Perhaps you're making gluten free meatballs or you're looking to reduce your carbohydrates. Fortunately, there's no problem with making meatballs without breadcrumbs!
In fact, you may find that your meatballs stick together better without it. The egg and meat should combine fine, and – just like a burger patty – the meatballs will taste delicious. If you want to bulk the meat out a bit, try something like almond flour or grated Parmesan cheese, but this isn't necessary.
It's really not difficult to cut the breadcrumbs out of meatballs, so give this a try next time you're making them. You might find that you will get softer, more delicious meatballs. Just remember to increase the quantity of meat or add in almond flour, or you may find that the recipe ends up too wet.
Suggested Sides
So, what else do you add to your plate? Let's look at what to make with meatball recipes. One option is potatoes; try topping crispy roast potatoes with these delicious little balls.
Alternatively, stir them in with some noodles and freshly chopped onion for a bit of a kick. Add some soy sauce if the meal seems too dry. Throw them into pita bread or cut them in half and top pizzas with them. All are fantastic options!
How To Cook Meatball Sauce
Meatball sauce is very easy to make; it's sometimes known as marinara sauce. You can do a very simple 20-minute recipe by frying some crushed garlic, chopped onion, and red pepper flakes, and then adding a can of chopped tomatoes. Add some water and season with oregano, basil, salt, and pepper, and then simmer gently for 10 to 20 minutes.
Add the meatballs, simmer for a little longer, and you've got a rich meatball sauce, perfect for topping spaghetti with. You may want to remove the basil before serving, or leave it in.
How To Make Italian Meatball
Italian meatballs are also a popular option, and you can make these very easily with Italian sausage. You can also add ground beef and ground pork, but the Italian sausage is a must.
Combine with parsley and basil, and then pan fry for traditional Italian meatballs, or bake in the oven for a healthier alternative.
Hopefully you enjoyed our best ever meatball recipes and you now have plenty of ideas for how to cook the perfect meatballs every time. Don't overcook your meatballs, or they may end up dry and chewy, but don't let them stay soggy either. They should be lightly crispy on the exterior, and soft inside.
Try a few of the different options to see which appeals to your tastebuds the most and see whether you prefer baked or fried meatballs. Remember, baked tends to be healthier and less messy, but fried can have an extra delicious sear on the outside.