Cinnamon Rolls with Apple Pie Filling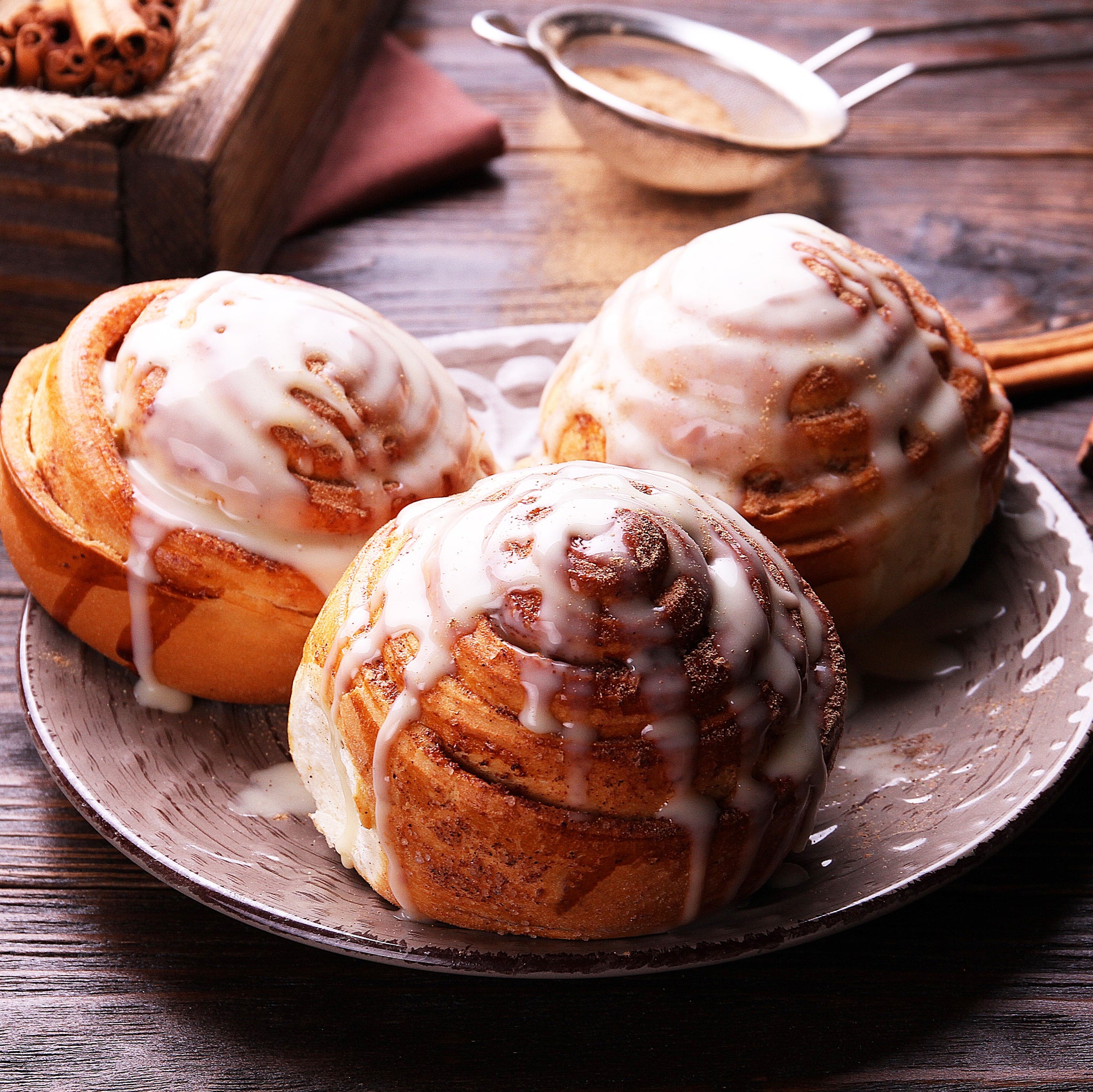 Cinnamon rolls with apple pie filling are a top treat, especially as winter comes in and people want warm, lightly spiced snacks to enjoy in the evenings. Combining cinnamon rolls with the deliciousness of apple pie is the perfect way to make your day amazing – but how do you make apple pie filling cinnamon rolls?
We're going to look at how to create these rolls from scratch. You can use ready-bought cinnamon rolls if you choose to, but homemade rolls can't be beaten, and this is a wonderful winter activity to do with your kids.
Cinnamon Rolls With Apple Pie Filling
So, how do you make amazing apple pie filling cinnamon rolls? Let's find out!
For the dough, you will need:
➔ 1 cup of warm milk
➔ 2.5 teaspoons of instant dried yeast
➔ 1/3 of a cup of sugar
➔ A pinch of salt
➔ 1/3 of a cup of butter, melted
➔ 4 ½ cups of bread flour
➔ 2 eggs (medium)
For the apple pie filling:
➔ 5 medium green apples, cored, peeled, and diced
➔ 3 tablespoons of crushed pecan nuts
➔ ¼ of a teaspoon of ground cloves
➔ 1/3 of a teaspoon of nutmeg
➔ 2 teaspoons of ground cinnamon
➔ A pinch of allspice
➔ ½ a cup of brown sugar
For the base filling:
➔ 1 tablespoon of ground cinnamon
➔ 3 tablespoons of unsalted butter, melted
➔ 2.5 oz of brown sugar
As you can see, there is quite a lot to this recipe, and even just making the apple pie cinnamon rolls crust involves a lot of ingredients. It is a good idea to assemble all the ingredients in advance, and make sure that you have everything that is needed before you start.
Method for the dough:
Step 1) Melt the butter and warm the milk in separate pans. Weigh out the ingredients.
Step 2) Sift your flour and salt into a bowl and set it to one side.
Step 3) Check on the milk. It needs to be warm, but should not be hot, or it will kill the yeast. When the temperature is good, stir your yeast into it. If you don't have instant yeast, leave it for ten minutes to activate.
Step 4) Put the milk, eggs, yeast, and 1/3 of a cup of melted butter in a mixing bowl, and mix until everything is combined.
Step 5) Add in the flour and keep mixing until you have a dough. Knead this thoroughly, preferably with a dough hook. If you do not have a dough hook, keep working it for about twenty minutes. The dough should be sticky, but if it is clinging to the bowl, add a little more flour to reduce the stickiness.
Step 6) Tip the dough into a greased bowl, cover it with a clean towel, and put it in a warm spot. It should be left for an hour and a half so it can double in size. While this is happening, move on to the apple pie filling.
Method for the apple pie filling:
Step 1) Prepare apples by peeling them, removing the cores, and dicing them.
Step 2) In a saucepan, stir together the pecans, allspice, cloves, nutmeg, cinnamon, brown sugar, and diced apples. Allow them to simmer for up to ten minutes, and then test that the apples are soft.
Step 4) Get a fine sieve and drain the apple pie mixture. Put the drained mix in a cool bowl and leave it to cool down. It must be cold before you use it. You can discard the liquid.
Method for the base filling:
Step 1) If you did not melt all of the butter while making the dough, melt the remaining butter now.
Step 2) Mix the brown sugar and ground cinnamon together.
Method for putting it all together:
Step 1) Thoroughly grease or line a baking sheet (9 x 13 inches) with parchment paper.
Step 2) Tip your doubled-in-size dough onto a floured work surface and roll it out into a rectangle of around 12 x 24 inches.
Step 3) Take the remaining melted butter (from the base filling) and brush it over the dough with a pastry brush. Next, sprinkle the mixture of brown sugar and cinnamon (from the base filling) all over the top of the dough.
Step 4) Take your cooled apple pie filling and spread it all over the top of the dough. Use a knife or spatula to get it as even as possible, as this will help to ensure that it cooks evenly too.
Step 5) Start at the short side of your dough, and gently pick up the edge so that you can roll the entire sheet up. It should end up twelve inches long, so you're rolling from short edge to short edge. Work slowly, being careful not to tear the dough.
Step 6) Transfer the rolls onto your greased baking sheet. Rest for about twenty minutes, and then preheat your oven to 350 degrees F. Allow the dough another ten minutes of resting while your oven heats up.
Step 7) Bake for around fifteen minutes, and then check on it. The rolls should be golden brown. Give them a few more minutes if necessary, and then take them out of the oven.
Step 8) Let the rolls cool on the baking sheet, and then transfer them to a plate or rack and serve.
These apple pie cinnamon rolls crust up beautifully in the oven, leaving you with a rich, golden roll, packed with apple goodness. Next, we are going to look at other ways in which you can enjoy cinnamon rolls.
Recipe For Gluten Free Cinnamon Rolls
If you're baking for someone who needs a gluten free recipe for cinnamon rolls, you're in luck – because this is reasonably easy to do. You may be able to make an adapted cinnamon rolls recipe gluten free using the instructions above and gluten free flour, or you can follow this recipe for gluten free cinnamon rolls.
Note that these don't contain the apple pie filling, but it can be added if you like.
For the dough, you will need:
➔ 20 oz of gluten free self-raising flour
➔ 21 oz of plain yogurt (as thick as possible)
➔ ½ teaspoon of xanthan gum
➔ 1 teaspoon of baking powder
➔ 2.5 oz of caster sugar
For the filling:
➔ 5 oz of light brown sugar
➔ 2 teaspoons of cinnamon
➔ 1 oz of melted butter
To make this gluten free recipe for cinnamon rolls, you'll need to combine all your ingredients in a large bowl, and then lightly knead them for a few minutes. Add more flour if the mixture is sticky. Preheat your oven to 350 degrees F.
Flour the work surface and roll the dough out to approximately twelve inches by fourteen inches. Brush the melted butter on the dough, and then sprinkle on the sugar and the cinnamon. Next, roll the dough up, working from the short end again.
Cut the roll into inch-long sections, and place them in your baking tin. Bake for around twenty minutes, until they are golden. You can drizzle icing over the top once they have cooled if you like, or leave them plain; they will already be nice and sweet from the brown sugar.
You have now made the perfect cinnamon rolls recipe gluten free, so enjoy!
Ketogenic Cinnamon Rolls Recipe
If you're looking for a ketogenic cinnamon rolls recipe, you're in luck; this is possible to create!
You will need to use almond flour, cream cheese, an egg, baking powder, and mozzarella for the dough, but it is surprisingly easy to make. Melt together the mozzarella and cream cheese, stir in the egg, and add the dry ingredients.
Mix everything into a dough and then form it into balls and roll them out into long strips. You should use a sweetener mixed with cinnamon for the filling; spread this evenly over each strip, and then roll the strips up. Cut the buns in half, and put them in a baking dish.
Bake for twenty minutes, and then add frosting or icing if you want to, or eat them plain. This ketogenic cinnamon rolls recipe is a wonderful way to enjoy this treat while on a diet!
Icing For Cinnamon Rolls Recipe
Cinnamon rolls just aren't the same without icing. You have the choice of making cinnamon rolls cream cheese frosting, or a cinnamon rolls recipe icing for the top. Either of these will add to the deliciousness and sweetness of the dish, complementing the cinnamon perfectly.
First, let's look at an icing for cinnamon rolls recipe. This involves melting the butter, and then mixing it with powdered sugar, milk, and vanilla. Once it is all smooth, pour it over the rolls while they are still warm.
You can use this cinnamon rolls recipe icing with any rolls that you have made, including the recipes above.
Next, cinnamon rolls cream cheese frosting can be made if you prefer a sharper edge. You again only need four ingredients. Mix together powdered sugar, a little soft butter, some cream cheese, and some vanilla extract.
Warm everything up until the mixture becomes thin and can be poured over your warm cinnamon rolls. This cinnamon rolls cream cheese frosting is perfect for other cakes like carrot cake too!
Cinnamon Rolls Paula Deen
Cinnamon rolls Paula Deen style are also delicious. Her recipe calls for shortening instead of butter, and lacks the apple pie filling, but it is somewhat similar to the first recipe in this article. Again, you use yeast to help the rolls activate, so you need to set the rolls aside for an hour and a half while they are proving.
She also provides a recipe for the icing, but instead of melting the butter, it calls for you to drizzle hot water into the rest of the ingredients to melt it.
If you prefer, you can use a cream cheese frosting recipe; either way, cinnamon rolls Paula Deen style are certainly a delicious and popular snack for anyone to enjoy.
Cinnamon Rolls Alton Brown
Cinnamon rolls Alton Brown recipe takes rather longer, so be aware of this before you start it off. This recipe calls for rapid rise yeast, and you'll need to set the dough aside for around three hours while you wait for it to double in size.
When this is done, you will continue making the rolls as normal, but instead of sprinkling the filling all over the dough, you'll leave a one inch border at the top edge. This makes the edge of the roll, where it needs to press onto itself to create a sealed roll, stick properly and gives you a clean finish.
Cinnamon rolls Alton Brown style then requires you to rest them a second time, allowing them to puff up for another thirty minutes in a warm (but off) oven. Alton Brown also suggests using a mixer for both the dough and for the filling, although this is optional, and you do not have to do it to achieve success.
You should be prepared to spend quite a bit longer on this recipe than on the other ones offered here; the dough is given considerably more proving time. That makes this recipe frustrating for some people, but it will give you fabulous cinnamon rolls that are really airy and light.
Note that the recipe does offer both metric and US measurements, but Alton Brown recommends using metric for consistently perfect cinnamon rolls.
Cinnamon rolls are one of the most delicious fall and winter treats out there, so it's well worth giving them a go. If you haven't tried making them before, opt for a simple recipe and don't be put off.
It may look complicated because there are two parts to the recipes (or three if you want cinnamon rolls with apple pie filling), but as long as you take your time in following the directions, these delectable treats are very straightforward. Give the dough time to prove, and tweak your filling ratios until they are perfect!