Easy and Delicious Soup Recipes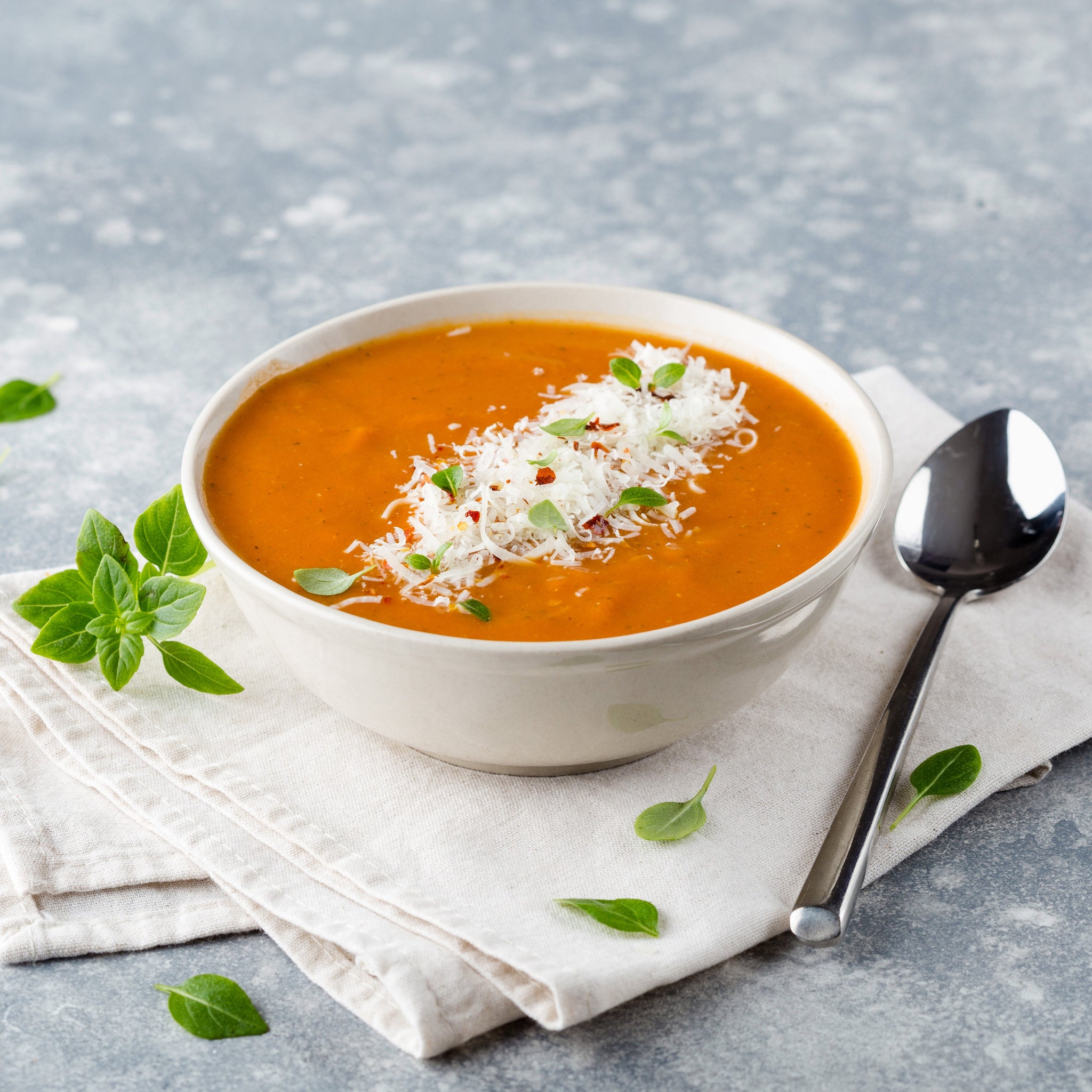 Soup is a staple dish for many people. It's a first course, a main meal, a comfort food, and a cure-all for sickness. Soup comes in hundreds of different varieties and forms, thick, thin, chunky, and smooth. It is a much-loved dish that will really help you to get your five veggie servings a day.
Knowing how to make a good soup is one thing, but knowing how to make multiple good soups for all sorts of different occasions is another. This is a very inexpensive food that tastes fantastic and is filling, and it's also usually pretty healthy. So, let's look at the top soup recipes, and also how to make great soups in general!
How To Thicken A Soup
There are quite a few things you can do to thicken a soup if you feel it's too thin. The method you use will depend a bit on the ingredients that you have used for the soup, but a few popular options include:
➔ More vegetables
➔ Flour or corn flour
➔ Cream
➔ Blended bread
➔ Noodles
➔ Rice
Another option is to blend the soup, as this usually makes it thicker. However, adding a bulky ingredient is a great way to make the soup heartier and more enjoyable, and many people find that rice, noodles, or pasta make good additions to soup.
Flour is also a good option, and one of the simplest solutions. You can mix a little of the soup into a couple of tablespoons of flour, and then stir this mixture into the pot. Don't just sprinkle the flour into the pot, as it may clump.
Ham Split Pea Soup
A classic recipe, you don't need too many ingredients for this one. First, you will cook onions, celery, and garlic in butter over a low heat. Cube up the ham and add it to the butter, and then add an equal weight of dried split peas.
Bay leaves give it a nice additional depth of flavor, and you should then follow this up with stock. You can either use vegetable stock or a meat stock if you prefer. You should also add some water, as the dried peas will absorb a lot of liquid as they cook, and just using stock will make it too salty.
Cook for a little over an hour, and check whether the peas are soft. If they are, the meal is ready to eat!
Leek And Potato Soup

Perfect for warming you up in the winter, leek and potato soup is loved everywhere. It is delightfully creamy, and ideal for cold evenings. It is best made with butter, to lend a bit of salty, creamy goodness to the leeks.
You should melt the butter until it is foaming, and cut your potatoes into small chunks. Cut the onions and the leeks up small, and toss all of them in the butter until they are thoroughly coated in it.
Cover them with a lid to steam lightly for ten minutes, until the vegetables are soft. Next, add some vegetable stock and bring it up to a boil. Simmer for around five minutes, and the soup is done. You can blend it if you like, or leave it chunky. Season with salt and pepper, and stir in some fresh cream for extra decadence and rich flavoring.
Homemade Chicken Soup
A go-to recipe for anyone who is feeling under the weather, homemade chicken soup is a real treat. It is also extremely quick and simple to make yourself, and you can make it using a whole chicken, making it the perfect waste-nothing recipe.
To do this, place someone onions, celery sticks, carrots, and a whole chicken in a large pot, and pour cold water over the top. Leave the lid off, and bring the pot to a light simmer. Cook it until the chicken meat frees itself from the bones, and keep skimming the foam off the top.
Once the chicken meat is free, you need to remove everything from the pot, and then allow it to cool a little. Remove the chicken meat from the bones, and then cut up your vegetables. Put all of the ingredients back in the pot, and season to your tastes. Cook for a few more minutes, and then serve piping hot.
Vegetable Soup With Chicken
If you prefer your soup with a few more vegetables to lift its flavors, that's great, because it's super easy to make a hearty vegetable soup with some chicken included for protein and succulence.
You can use anything in a vegetable soup, but common ingredients include onions, leeks, carrots, celery, potatoes, sweet potatoes, and squash. You should cube up the vegetables and then soften them by frying them gently in olive oil.
Add the stock once the vegetable cubes are soft. You can use either vegetable stock or chicken stock. When it comes to chicken, many people choose to use leftover chicken, but you can also use chicken breasts or a whole chicken if you like.
Simmer your chicken in with the vegetables for twenty minutes, and you've got a great vegetable soup with chicken! You can add a bulky ingredient like orzo or rice if you like, or keep it simple.
Black Beans Soup Recipe
Canned black beans are the key to making a back bean soup very quickly and easily, and they aren't usually expensive to buy. You can make a very simple black bean soup with carrots, onions, and celery all cooked with the beans and some stock, or you can make things a little more complicated.
Add things like red pepper flakes, cumin, garlic, or cilantro to the soup to give it a flavor boost. You can also puree up some of the black beans and add them to the soup afterward to make it smoother and creamier.
Serve with a generous helping of avocado or a sprinkle of fresh herbs, and this is a delicious and very filling meal to serve on a cold night!
Recipe For Broccoli Cheese Soup
For this recipe, you'll want to melt some butter and add onion, red pepper flakes, garlic, and black pepper. Cook until the onions are golden, and then prepare your broccoli by cutting it into small pieces.
Slice the stalks into chunks, and remove the florets for later use. Next, toss the stalks into the pot with some chopped potato, and add some stock, plus a little salt if you like. Bring the pan to a boil and then reduce it to a simmer and cover the pot for about twenty minutes, until all the ingredients are soft.
Chop up your florets and add half of them to the pot, and cook for a few minutes. Turn off the heat and blend the soup with a stick blender until it is totally smooth.
Add the remaining florets and cook for another few minutes, and then grate in some strong cheddar cheese. Stir until it has all melted and then taste it.
The soup is now ready to serve, with any toppings you like!
Recipe For Italian Wedding Soup
If you want a fancy soup, Italian wedding soup is a great option.
First, you will need to make some meatballs. For this, stir together pork and beef in a big mixing bowl, and then add some egg, Parmesan cheese, bread crumbs, and herbs like oregano and parsley. Mix everything together and then shape into miniature meatballs.
Heat some olive oil and gently brown the meatballs for a few minutes, turning them gently. They don't need to cook fully.
Next, chop some celery, carrots, and onions and fry gently for up to ten minutes, and add a little garlic. Add some chicken broth and then bring everything to a boil.
Add the meatballs and some pasta, and reduce the heat. Cook for around ten minutes, until the pasta and meatballs are both done. Add some washed spinach for the last minute of cooking, and then serve the soup hot, topped with Parmesan.
Recipe For Beef Vegetable Soup
Brown the beef in olive oil, and then remove it and cook chopped onions and garlic in the same oil. Add celery and carrots, and cook for two minutes.
Next, add some flour and pour in the beef broth, followed by tomato paste, beer, water, and thyme. Bay leaves are again a good addition. Put the beef back in, and leave it to simmer for just over an hour, until the beef is softening.
Add peas and chopped potatoes and simmer for another twenty minutes. Check that both the potatoes and the beef are cooked through and have gone soft, and then season. You can serve this with crusty bread or eat it as it is.
Easy Recipe For Potato Soup
Another classic and warming option, potato soup is very simple, but many recipes are bland. It's important to use good stock to make the most of this recipe.
Chop your potatoes and onions and toss them in a pan with melted butter, and season lightly. Sweat them gently for around ten minutes, and then add some hot stock. Cook for about fifteen minutes, until your vegetables have turned soft.
Take it off the heat, and add some milk. You can puree the soup for a creamy, rich, smooth meal. Add salt and pepper at the end, and serve the soup with fresh herbs.
Chicken Noodle Soup In Crock Pot
Crock pots are your best friends for simple winter recipes. There is nothing like coming home from work on a cold day to find that supper is almost done, and it's nutritious, filling, and warming. A chicken noodle soup in the crock pot offers all of that.
Put chopped celery, onions, carrots, rosemary, garlic, and bay leaves (whole) into your crock pot, along with some chunks of chicken. Season, and add the stock.
Put the lid on and cook for up to eight hours on low. Once the soup is cooked, check that the chicken is done, and then add the noodles to the pan. Cook for up to thirty minutes more, and then serve piping hot.
Chicken Soup And Rice
Chop up some vegetables that you enjoy, including onions and garlic. Cook them until the onion is translucent, and then add celery and carrots. You can add other vegetables too if you fancy.
Pour in some stock and dried herbs, plus chicken broth. Add a whole chicken when the liquid is hot.
Cover it and let it simmer for thirty minutes, and then turn up the heat. Next, add the rice and simmer for fifteen minutes, and check that the rice is cooked.
Turn off the heat and take the chicken out. Allow it to cool, and then remove the meat from the bones and stir it into the soup.
Recipe For Lentil Soup
It doesn't get much easier than lentil soup. Heat some stock and boil the lentils until they are starting to soften. Next, add chopped leeks and carrots, and some black pepper. Bring up to a boil, and then turn down the heat and simmer the soup for up to an hour. The lentils should soften, and will absorb some of the liquid.
This soup should be served with buttered, crispy bread. It's very filling and satisfying.
Meatball Soup
Fry some onions and bell peppers until they are starting to soften, and then stir in chili flakes and garlic. Add couscous, vegetable stock, and chopped tomatoes.
You can use store-bought meatballs, or use the earlier recipe to create your own. Add them to the soup and simmer for about seven minutes. Check that the meatballs are fully cooked, and then serve. This is one of the easiest and most satisfying soups you can make.
Making soup is a staple of cooking, and having a whole variety of recipes up your sleeve is the way to go. There are so many great ways to enjoy soups, with vegetables and meat, and all of these will help you to vary your diet, eat healthy, and enjoy some really good food.
They are mostly very simple, and should not take a lot of time or effort to learn!