The Most Delicious and Simple Recipe For Banana Bread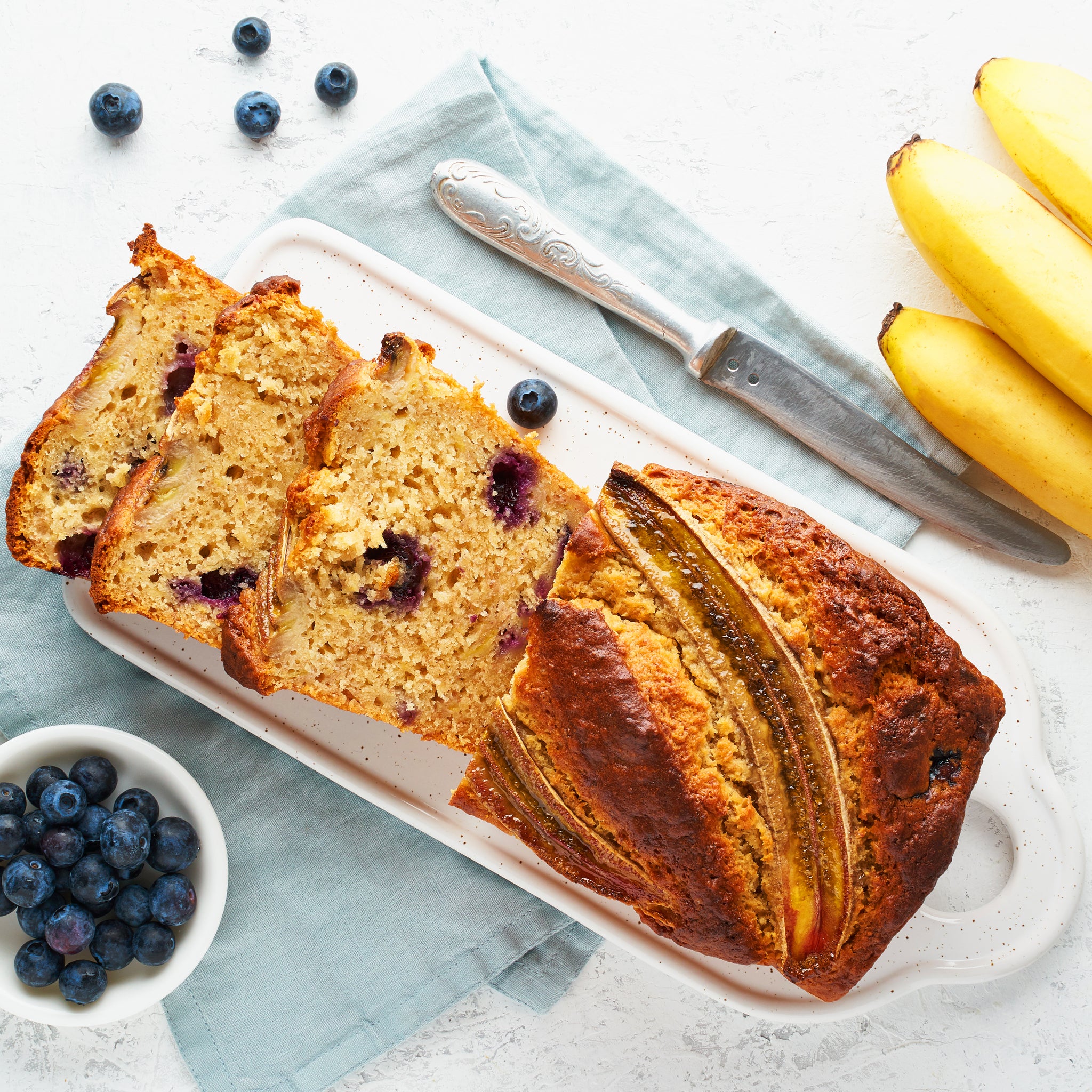 Making banana bread is the best way to use up the ripe/overripe bananas at your home. We are going to give you the best recipe for moist banana bread. You will want to make a new one as it's over. It is so delicious that you are going to lose your mind. It owes its rich taste to ripe/overripe bananas. Using ripe/overripe bananas is the most important part of making banana bread because as a banana ripens it becomes sweeter and gives more flavor.
We guarantee you that it's going to be a family tradition to have banana bread on weekends. you can make it with your little ones to have quality time with them. This recipe is so easy to make, you don't even need a mixer to combine it. Just a fork can do all the work. Plus, you can mix all the ingredients in one bowl!
It will save you the trouble of preparing breakfast for the weekdays. Believe us, banana bread and coffee make a fantastic duo. Have a slice of banana bread and make yourself a fresh cup of coffee. Starting days with this level of quality will hype up your mood!
You can freeze the banana bread after baking it. Just wait for it to cool completely, wrap it tightly with cling wrap, and put it in your freezer. Now you will have fresh banana bread whenever you want! Let's say you have surprise visitors, and you have nothing to serve. No worries! Remember, you have banana bread in your freezer. All you need to do is thaw the banana bread and crown it with a nice cup of coffee. Your guests will be impressed!
Frozen Bananas in Banana Bread
You can also use frozen banana for banana bread. When the bananas are ripened, peel and put them into your freezer, and you'll have the main ingredient anytime you want! Using frozen bananas gives your banana bread recipe best moist texture. Thaw the frozen bananas that you freeze earlier, and it is ready to use!
This is a very forgiving recipe. You can decrease the amount of sugar and butter. This recipe of banana bread with 2 bananas works pretty well but you can add one or two more bananas. It is almost impossible to go wrong with this recipe.
You are going to need:
➔
2 large ripe/overripe bananas (3 or 4 if medium)
➔
2 eggs
➔
2 fl. oz. (60 ml) melted unsalted butter
➔
1¼ cups (200grams) all-purpose flour
➔
¾ cup (150 grams) granulated sugar
➔
1 teaspoon baking powder
➔

 
Pinch of salt
Additional Ingredients that Spice Up Your Banana Bread
The recipe that we prepared is a base recipe that is so easy to make. For the best of the best moist banana bread recipe, we list you some mix-ins. With these ingredients, you can have variations of delicious banana bread.
➔ Chocolate chips or chopped chocolate
will fit into your banana bread perfectly. It melts a little in the baking process and makes the bites mouth-watering. Trust us that it will elevate your banana bread! You can use any kind of chocolate for your recipe for chocolate chip banana bread. We recommend using bitter chocolate.
➔ Greek Yogurt
Adding ¼ cup plain Greek yogurt (nonfat or regular) to your banana bread will increase its protein value. Also, making your banana bread with yogurt will give extra moisture!
➔ Peanut Butter
If you are a peanut butter lover (aren't all we?) add ½ cup creamy peanut butter for an extra rich taste.
➔ Blueberry, Raspberry, Strawberry
Do you want fresh fruits in your banana bread? Here is the banana bread with blueberries recipe. Coat the berries you prefer with 1 tablespoon of flour and add them to the base batter. If you are feeling extra, add some more to the top of your bread for decoration. Fresh berries will upgrade your banana bread and give extra moisture too.
➔ Vanilla Extract
Adding a teaspoon of vanilla extract will richen the taste of your banana bread and help the other flavors shine.
➔ Walnut, Nut, Pecan
Chop your nut in prefer and add into the batter for a crunchy texture.
➔ Cinnamon Powder, Cocoa Powder, Ginger Powder, Nutmeg, Turmeric Powder
If you like these spices, you can eyeball it to the batter and spice up your banana bread. Especially cinnamon powder matches banana bread so well.
a
Method:
a
Step 1) Preheat your oven to 350 °F. And grease a 4x10 or 4x8 loaf pan.

Step 2) In a large bowl, mash your bananas with a fork. Add your eggs and melted butter in and beat it with a whisk (you can use a fork or a mixer too). If you are adding yogurt, vanilla extract, or peanut butter mix in this step.
a

Step 3) Stir in the sugar. Then fold in the flour, baking soda, and salt. Mix just enough. Add chopped nuts, chocolate, blueberries, and spices to this step.
a

Step 4) Pour the batter into the pan. Bake for 40 to 50 minutes until a toothpick or a knife comes out clean. Check it after 40 minutes, a few crumbs are okay but if the toothpick comes out wet, bake it for 10 more minutes. Cool it for 15 minutes in the pan. Remove from pan, slice, and serve. Enjoy the awesomeness!
Banana Bread Baking Tips
➔
As mentioned before, using ripe/overripe bananas is the key to banana bread. Overripe bananas will give more flavor, sweetness, and moisture to banana bread.
➔
Do not overmix after adding the flour. It will cause gluten development which makes your bread tough and dense.
➔

Mix all the dry ingredients in a bowl before adding wet ingredients. Sugar helps the flour to combine easily in the batter. This trick prevents overmixing.
➔

Coat the blueberries with 1 tablespoon of flour before adding them to the batter, this will keep them from sinking to the bottom of the pan.
➔

Creamy peanut butter combines with the batter way easier than crunchy peanut butter.
➔

Ingredients that at room temperature bond together very easily and create a smooth batter.
➔

Do not forget to grease your pan with butter, this will help your banana bread come out easily without breaking.
➔

Avoid opening the oven door before 30 minutes of cooking time. This will stop your bread from rising and cause a flat bread.
➔

The base batter is perfect as it is but adding more ingredients will amp your banana bread up. For more moisture and a rich taste, we highly recommend you spice up your batter with those ingredients.
You Can Convert the Recipe of Banana Bread Vegan Gluten Free
Our recipe for banana bread is dairy-free! If you have gluten intolerance, you can change the flour and make your banana bread recipe gluten free. Here are some alterations to convert the recipe.
➔
To make the banana bread recipe eggless, the only thing you need to do is add one more banana and mix it with other bananas instead of eggs. It will do the work. You can use other
egg replacements
too if you like (Chia seeds, flax seeds, etc.) It is totally okay making no eggs banana bread and it still tastes the same.
➔
Use coconut oil,
olive oil
, vegetable oil, or rice bran oil to replace the butter. Using these oils is a healthier option than butter and will make your banana bread low-calorie!
➔
If you want a gluten-free option, you can make the banana bread low calorie and gluten-free. There are so many gluten-free flour options to replace wheat flour, you can use any gluten-free flour. Almond flour will match this recipe perfectly.
Banana Bread Muffins
Do you want small bites of banana bread? You can use this banana bread recipe for muffins too. You don't need a different recipe for banana bread muffins. The batter is the same, only baking time is different than banana bread loaf. Banana bread recipe muffins bake for 20 minutes.
Start with preparing your muffin pan with 12 muffin liners. Then prepare the batter and divide it between 12 muffin cups. Bake for 15 to 20 minutes in the preheated oven (350 °F). Your kids will love small bites of banana bread.
Nutrition Facts (Per Serving)
Low Calorie, Low Sugar Banana Bread
There are many variations of banana bread, and the recipe is so forgiving that you can make any changes. For low-calorie banana bread, you can change butter and add more healthy and low-calorie oils. We recommend adding olive oil. We tested and approved that it gives more moisture and taste milder.
Our recipe already has lower sugar than other recipes. However, you still can make it healthier by decreasing the sugar to ½ cup. If you are decreasing sugar, we recommend using more healthy sweetener options. Like maple syrup, honey, agave nectar. Again, you can eyeball it to your taste. In that way, making your banana bread low sugar will not affect its taste.
Recipe for Banana Bread Pudding
We also prepared this recipe for banana bread pudding. If there's any left, which we can't relate, banana bread pudding is the best way to use up leftover banana bread.
You are going to need:
➔
Half loaf of Banana Bread
➔
1 egg
➔
 1 cup milk
➔
1 tablespoon maple syrup
➔
¼ teaspoon cinnamon
➔
Pinch of nutmeg
Method:
Step 1) Preheat the oven to 350 °F.
Step 2) Cut the banana bread into small cubes. Spread the pieces over a greased shallow baking dish.
Step 3) Mix the ingredients in a bowl and combine them well.
Step 4) Pour the wet mixture over the bread and cook it for 30 to 40 minutes.
Topping for Banana Bread
There are many ways to level up your banana bread game. We all know it is perfect as it is but why not make it fun? There are so many options to make your banana bread unique. You can add various ingredients to the batter and find pleasure with the harmony of different flavors. For a more gorgeous look and taste, consider decorating your banana bread with delicious toppings. Here is the topping for banana bread selection.
Classic Streusel Topping
You are going to need:
➔
1 tablespoon unsalted butter, cut into cubes
➔
 3 tablespoons brown sugar
➔
3 tablespoons flour
➔
 ¼ teaspoon cinnamon
➔
Pinch of nutmeg (optional)
➔
¼ cup chopped walnuts (optional)
Method:
In a medium bowl mix flour, brown sugar, cinnamon, and nutmeg until combined. Cut butter into small cubes and add it to the bowl. Pinch the butter cubes into the flour mixture. Stir the chopped walnuts. When it is combined well, it will start crumbling and look like wet sand.
After pouring the batter into the pan, crumble the topping evenly to the batter.
Cinnamon Crumble Topping
You are going to need:
➔
2 tablespoons brown sugar
➔
1 teaspoon cinnamon powder
Method:
Combine crumble ingredients in a small bowl and sprinkle over banana bread before baking.
Powdered Sugar Spice Glaze Topping
You are going to need:
➔
2 cups powdered sugar
➔
 ¼ teaspoon cinnamon
➔
Pinch of nutmeg
➔
 2 tablespoons butter (softened)
➔
3 tablespoons milk
➔
1 tablespoon vanilla
Method:
In a medium bowl, combine all ingredients until smooth, adding enough milk for desired glaze consistency. Pour the glaze over baked and cooled banana bread.
Almond, Walnut, Pecan Topping
Chop the nut you are preferring and spread it over the batter before baking. It will give an extra crunch.
After various options, how do you make banana bread at home? Please share with us your views and photos of the banana bread that you made using our recipe.